How We Can Assist You
Assessments for Seating and Mobility – With our mobility consultants and Assistive Technology Professionals (ATP), we can provide a full assessment of mobility, seating, and positioning. This service is available with input from our patients, families, physicians, and therapists. We work this way to make sure our solutions are effective.
Equipment Trials – It could be possible for you to try a complex rehabilitative power chair. These trials can take place at the clinic and/or in your home. A trial will help ensure that your equipment is suitable for your needs.
Insurance Expertise – Our staff comprises insurance specialists who can work with you to obtain authorization and funding for medical equipment. Our staff is well-versed in Medicare and Medicaid, as well as other private insurance plans.
Delivery and Training – Providing the highest standards of service, we deliver mobility equipment to your location. Our process involves training customers and caregivers, so they understand how to use the mobility device and maintain the equipment.
Servicing and Repairs – Our servicing staff is on-hand to keep your mobility device in safe working order. In the event that something goes wrong with your mobility device, our technicians have all the skills necessary to return it to its proper working condition. You can even call us for service and repairs if you did not purchase the item from us.
Our service promise to you:
We will work around your schedule
We will arrive promptly
We will come to your location to service and repair your device
We will offer you a temporary, replacement chair if we need to take yours away to repair it
If you are in Collinsville VA and need a mobility device, we have an excellent range and extensive experience.
Power Wheelchairs and Complex Rehab Technology in Collinsville VA
One of the advantages of working with Freedom Mobility Center is that we understand how important it is for people to be mobile and independent, whether they are at home, in an office, or traveling around town. To ensure top-quality service and effective solutions, we work with physicians and therapists. Also, we are the largest independent provider of complex rehab power wheelchairs for multiple areas, including Collinsville VA, and you can see why our customers do not hesitate to refer us to others.
If your physician has recommended a mobility device, you can rely on us to provide the equipment you need. Our range includes:
Scooters
Manual Wheelchairs
Power Wheelchairs
Complex Rehab Technology
More on Complex Rehab Power Wheelchairs
Many people rely on our Complex Rehab Power Wheelchairs to meet the challenges of their specific disability. These chairs are designed to help users participate in day-to-day life to its fullest extent. Users of Complex Rehab Power Wheelchairs include those with:
Congenital Disorders: Including cerebral palsy, muscular dystrophy, and spina bifida
Degenerative or Progressive Neuromuscular Disease: Like multiple sclerosis or ALS
Traumatic Brain Injury: Following a spinal cord injury or another accident
Neurological Conditions: Including paraplegia resulting from a stroke
The determination of whether a complex rehab power wheelchair is right for someone or not depends on their specific conditions. In order to benefit from a complex rehab power wheelchair, your insurance needs to deem it medically necessary.
Power and Flexibility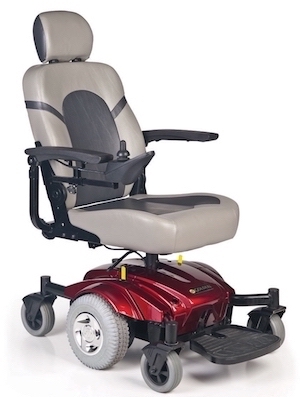 In addition to being able to configure a Complex Rehab Power Chair for comfort and utility, they can also be modified or upgraded, if necessary. This flexibility is intended to match the changing mobility needs of wheelchair users over time.
You can adjust a Complex Rehab Power Chair in the following ways:
Height, depth, width, and angle of the seat
Seat customization
Cushions to support the back
Positioning items, including headrests, and supports for the sides and hips
Powered tilt and recline
Elevating leg rests and foot platforms both powered and manual
Special joystick controls
Sip-n-puff, foot control, head control, and other alternative drive controls
To ensure that you receive the most effective Complex Rehab Power Wheelchair for your specific mobility needs, we maintain a line of manufacturers and various products. These can be customized to meet any demands.
Our product lines are as follows:
Sunrise Medical's Q700M, Q500M, and Quickie Pulse 6
Permobil's M1 and M3
Quantum Rehab's Q6 Edge 3.0, Q6 Edge HD, and 4Front
How to Obtain a Power Wheelchair for Your Needs
Let us know your demographic information: Providing us with your contact details and insurance cards are helpful because we can verify that the mobility equipment would be covered.
Arrange an evaluation with your physical therapist and/or doctor: The point of this is to determine your mobility needs. To do so accurately and conscientiously, one of our Assistive Technology Professionals or Mobility Consultants will help you through the process. They will collate the documentation that your insurance company will require.
We will then compile your medical documentation for your insurance company: The insurance firm will review this information and confirm whether the medical necessity has been met or not.
Finally, we will deliver your new equipment to your home: You can rely on our experience. We have technicians to instruct you regarding how to operate your complex rehab power wheelchair or other mobility equipment, requested by your physician.
Benefits of Power Wheelchairs in Collinsville VA
Power wheelchairs tend to have the following advantages:
Increased Efficiency and Mobility– They require less energy for users to achieve mobility.
Maneuverability– Not only can people use power wheelchairs indoors, but they can use them in very tight spaces.
Independence– They assist users moving around interiors, while also reducing the risk of falls.
Pain Minimization– A mobility device like this can reduce pain associated with walking or standing.
Customizable– While not as customizable as our Complex Rehab Power Wheelchairs, these do often come with a programmable controller. The controller adjusts settings like speed and torque.
Our product lines include the following makes and models:
Golden Technologies- Golden AlantéSport, Golden Compass Sport, and Golden Compass HD
Pride Performance Mobility- Pride Jazzy Select 6, Pride Jazzy Elite HD, and Pride Jazzy Select Elite
Our Lightweight Manual Wheelchairs
Lightweight Manual Wheelchairs are ideal for full-time use. Light enough to be maneuverable and self-propelled and they are also very comfortable.
No matter your needs for lightweight manual wheelchairs, our range is extensive, and we can make adjustments to suit your situation. When you contact us to discuss your needs, we can provide you with the ideal chair, adjusted to suit you.
Reach Out Today
Other mobility devices are available, including transport chairs, scooters, ramps, lift chairs, and vehicle lifts. Whatever you need, from ramps to complex rehab power chairs, call today and see how we can assist you.
If you need a complex rehab chair, a power wheelchair, repairs, and servicing, or another mobility device, contact Freedom Mobility Center. Our highly trained staff members serving the Collinsville VA area are looking forward to improving mobility for you or someone you know today. Fill out our online contact form.