M1
The Permobil M1 Power Wheelchairs offers a solution for users who may require a more traditional rehab style seating system that has limited to no power seat functions. The M1, with adaptable seating and positioning, offers flexibility users need without compromise.
The M1 offers users a chance for an active lifestyle. This power wheelchair comes with locking, flip back armrests and center and swing-away leg rest options that are designed for durability and ease of use. The suspension on the M1 offers a more stable chassis while the FlexLink™ ensures a smooth ride no matter the terrain.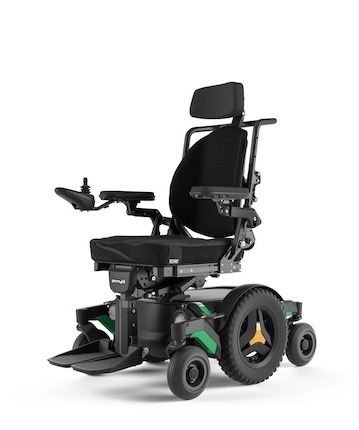 Permobil M1 Power Wheelchair Features
Adaptable seating and positioning.
Locking, flip back armrests with two points of contact for added security.
Center mount and swing-away leg rest options designed for durability and ease of use.
Patent pending FlexLink™ Suspension for advanced vibration reduction.
Accommodates ROHO® seating & positioning solutions as well as third-party options.
Variety of chair options that allow you to truly customize the M1 to fit your needs.
Variety of frame accent colors.
Variety of seat fabrics.
Maximum User Weight
300 lbs
Maximum Speed
5 mph
Range
16 mi*
Base Width
24″
Base Length
35.5″
Minimum Turning Radius
20.5"
Ground Clearance
3"
Recommended Battery Type
Group 34
Weight Including Batteries
319 lbs**
Drive Electronics
R-Net 90A, VR2 PM 90 (Advanced) or
PM 70 (Advanced and Basic)
Seat-to-Floor Height
16", 17", 18"
Tilt Options
0° – 50°
Recline Options
85° – 110° (manual)
Legrest Angle
80 – 140° (power) [ >19" seat depth]
90 – 150° (power) [ ≤19" seat depth]
80 – 135° (manual)
Backrest Height
18" – 29" (by 1" incr.)
Seat Depth
14″ – 22″ (by 1" incr.)
Seat Width
14″ – 22″ (by 2" incr.)
Armrest Options
2″x10″, 2″x14", 4″x10", 4″x13″
†Specifications may vary based upon configuration. Please refer to your owners manual for warnings and instructions for the safe operation of your wheelchair in a variety of driving conditions.
††The maximum user weight for a seat depth of 14" cannot exceed 165 lbs.
* Actual driving range will vary based on driving and battery conditions.
**Includes weight of base, curved backrest and battery.