Q6 Edge HD
The Quantum Q6 Edge HD Power Wheelchair is designed to meet the needs of the most active user. The power chair comes standard with ATX suspension, Mid-Wheel 6 Design, and 4-pole motors. It also comes with optional iLevel® power adjustable seat height.
The Q6 Edge HD can be used with a number of compatible seating and electronic options that will help deliver exceptional rehab capability. For seating, you can stick with the standard Contoured seating which is normally selected when special positioning is not required or the TRU-Balance® 3 HD Power Positioning Systems.
There are a variety of compatible electronics such as the Q-Logic 2 Drive Control System or the NE+ Controller which is a non-expandable rehab electronic controller that offers 2-actuator control.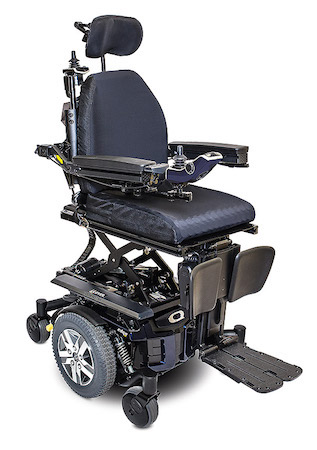 Quantum Q6 Edge HD Features
Mid-Wheel 6® allows six wheels on the ground for maximum stability.
Compatible with TRU-Balance® 3 HD Power Positioning Systems.
Available with Q-Logic 3 Advanced Drive Control System, which offers Bluetooth® access to computer, tablet and phone functions.
450 lbs. weight capacity.
Low impact OMNI-Casters (nylon, spherical-shaped casters) on front and rear prevent wheel hang-ups.
ATX Suspension (Active-Trac® with extra stability) incorporates front OMNI-Casters and semi-independent rear caster beam for enhanced performance over more varied terrain.
400 lbs. weight capacity iLevel® option enables up to 10" of seat elevation while at walking speed (up to 3.5 mph).
Optional iLevel's patented Extra Stability Technology® enhances safety while performing transfers, reach, and numerous other activities of daily living.
Optional LED fender lights (standard with iLevel).
Available with WC19 crash-test approved occupied transit kit option on Synergy® seating.
Variety of colors to choose from.
Model
Q6 Edge HD
Drive Wheels
14″ run flat
Optional: 14″ Pneumatic, 14″ Knobby
Caster Wheels
Front: 6″ Solid
Rear: 6″ Solid
Anti-Tip Wheels
N/A
Maximum Speed4
Up to 4.7 mph
Ground Clearance
3″ (frame center)
Turning Radius5
19.75″
Overall Length
35.6″ without foot riggings
Base Width
26.25″
Seating Sizes
TRU-Balance® 3 HD
Synergy®/Static: W: 20-32″ D: 20-28″
Power Tilt: W: 20-32″ D: 20-25″
Lift & Tilt: W: 20-24″ D: 20-25″
Seat-to-Floor Heights16
TRU-Balance® 3 HD
Synergy®/Static8: 17.5-19.5″
Power Tilt8: 18.5-20.5″
Lift & Tilt8: 17.75-19.75″
Manual Recline10
No
Battery Size6
Group 24
Battery Weight14
52 lbs.
Available Electronics12
75A Q-Logic 2 NE
75A Q-Logic 2 NE+
120A Q-Logic 3 EX
Battery Charger
8A Off-board
Motor Packages
4-Pole 4.7 mph1
Weight Capacity7
450 lbs.15, 16
Base Weight
143.5 lbs.
Medicare Code Coverage
Group 3:
Heavy Duty (K0850/K0851)
Single Power HD (K0858)
Multiple Power HD (K0862)
Notes:
1 Standard
4 Speed varies with user weight, terrain type, battery charge, battery condition and tire pressure.
5 Without front riggings
6 Battery capacity may change when adding power positioning systems.
7 Weight capacity is dictated by the selection of seating.
8 All measurements +/- 1/8″ with 18″ x 18″ seat, fixed towers, 300 lbs. weight capacity and solid tires (add 3/8″ with pneumatic tires). Depths may increase seat-to-floor height. Contact Customer Service for details. Limited measurements are in the lowest position; does not include elevating system unless specified.
10 Maximum dimensions of the Manual Recline vary by power base and seating system. Call for details.
12 All Quantum Rehab® units can be ordered with specialty controls
14 Battery weight may vary +/- 3 lbs. based on manufacturer.
15 Weight capacity is reduced to 400 lbs. with the iLevel® power adjustable seat height.
16 A minimum seating size of 20″ x 20″ is required with iLevel®. iLevel maximum seating size is 24″ x 25″.
16 Seat-to-floor heights are measured with the unit unloaded.