Q6 Edge 2.0
The Quantum Q6 Edge 2.0 power wheelchair offers features such as advanced responsiveness, standard 6 mph motors, and optional iLevel® adjustable seat height. This power chair is designed to meet the needs of users with an active lifestyle. You will find the Q6 Edge 2.0 has a variety of options from seating to electronics to deliver exceptional rehab capability.
Some of the seating options include the TRU-Balance® 3 Power Positioning Systems that feature an innovative design that maximizes functional independence while providing an appealing look and feel as well as the TRU-Balance® Flex Seating, a no-charge static seat option. Compatible electronics include the Q-Logic 3 Advanced Drive Control System, The NE+ or the NE Controllers.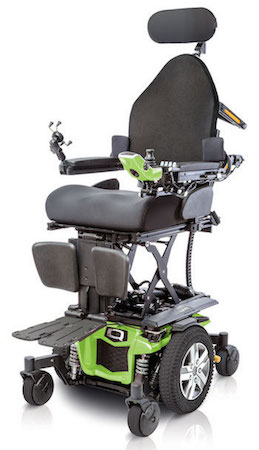 Quantum Q6 Edge 2.0 Features
6 mph high-speed motors standard.
Responsive handling, precise control and advanced performance.
Optional iLevel's patented Extra Stability Technology® enhances safety while performing transfers, reach, and numerous other activities of daily living.
Optional iLevel® enables up to 12″ of seat elevation while at walking speed (up to 3.5 mph).
iLevel is retrofittable on the Q6 Edge® 2.0.
17 color options and hydrographics available.
Available with Accu-Trac Advanced Tracking Technology.
Optional LED fender lights (standard with iLevel).
Optional 8″ casters.
Available with WC19 crash-test approved occupied transit kit option on tilt & recline and iLevel.
Model
Q6 Edge 2.0
Drive Wheels
14″ Solid
Optional: 14″ Pneumatic
Optional: 14″ Knobby Tires
Caster Wheels
Front: 6″ Solid1; 8″ Solid2
Rear: 6″ Solid1; 8″ Solid2
Anti-Tip Wheels
N/A
Maximum Speed4
Up to 6 mph
Ground Clearance
2.7″ (battery tray)
Turning Radius5
With 6″ casters1: 20.5″
With 8″ casters2: 23.25″
Overall Length
With 6″ casters1: 32.23 without foot riggings
With 8″ casters2: 40.48 without foot riggings
Base Width
24.4″
Seating Sizes
TRU-Balance® 3
Synergy®/Static: W: 10-22″ D: 10-22″
Power Tilt: W: 12-22″ D: 12-22″
Lift & Tilt: W: 12-22″ D: 12-22″
TRU-Balance® Flex Seat
W: 15-22″ D: 15-20″
Seat-to-Floor Heights16
TRU-Balance® 3
Synergy®/Static8: 16.5-18.5″
Power Tilt8: 17.5-19.5″
Lift & Tilt8: 17.5-19.5″
TRU-Balance Flex Seat
16.5″ – 19.5″
Manual Recline10
Yes
Battery Size6
NF-22 (2)
Battery Weight14
38 lbs.
Available Electronics12
75A Q-Logic 2 NE
75A Q-Logic 2 NE+
120A Q-Logic 3 EX
Battery Charger
8A Off-board
Motor Packages
2-pole Mid-Wheel 6®
Weight Capacity7
300 lbs.
Base Weight
With 6″ casters1: 138.6 lbs.
With 8″ casters2: 148 lbs.
Medicare Code Coverage
Group 3:
Standard (K0848/K0849)
Single Power (K0856/K0857)
Multiple Power (K0861)
Notes:
1 Standard
2 Optional
4 Speed varies with user weight, terrain type, battery charge, battery condition and tire pressure.
5 Without front riggings
6 Battery capacity may change when adding power positioning systems.
7 Weight capacity is dictated by the selection of seating.
8 All measurements +/- 1/8″ with 18″ x 18″ seat, fixed towers, 300 lbs. weight capacity and solid tires (add 3/8″ with pneumatic tires). Depths may increase seat-to-floor height. Contact Customer Service for details. Limited measurements are in the lowest position; does not include elevating system unless specified.
10 Maximum dimensions of the Manual Recline vary by power base and seating system. Call for details.
12 All Quantum Rehab® units can be ordered with specialty controls
14 Battery weight may vary +/- 3 lbs. based on manufacturer.
16 Seat-to-floor heights are measured with the unit unloaded.