4Front
The Quantum 4Front power wheelchair is a quiet, front-wheel drive chair that features automotive-grade suspension with unprecedented comfort and ride quality. The 4Front's Caster Angle Sensor Encoder technology and Smooth Ride Suspension provides stability for smooth obstacle transitions and great driving performance.
The 4Front power wheelchair features LED fender lights that allow you to see and be seen. It also comes with standard speeds of up to 6 mph in the lowered position and speeds up to 3.2 mph while elevated at 10″ with our optional safe seat elevation.
You also have your choice between many compatible seating options and electronics. For seating, you could opt for the TRU-Balance® 3 Power Positioning System. For electronics, you could choose The Q-Logic 3 Advanced Drive Control System,  an adaptable, expandable control system that can increase and maximize independence.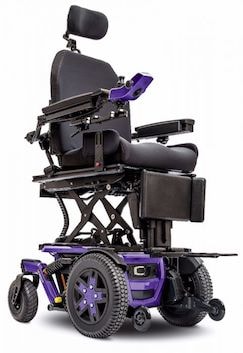 CASE (Caster Angle Sensor Encoder) technology
Unmatched driving performance and ride quality
Advanced stability for smooth obstacle transitions
Superior, automotive-grade SRS (Smooth Ride Suspension)
Q-Logic 3 EX Advanced Drive Controls
LED front and rear fender lights
Quiet ride technology
Available with WC19 crash-test approved, occupied transit option with all configurations
Model
4Front
Drive Wheels
14″ flat free
Optional: 14″ Pneumatic, 14″ Knobby
Caster Wheels
Rear: 9″ flat free
Anti-Tip Wheels
Front: 4″
Maximum Speed4
Up to 6 mph
Ground Clearance
3″ (motor pivot)
Turning Radius5
24.5″
Overall Length
40″
Base Width
24″
Seating Sizes
TRU-Balance® 3
Synergy®/Static: W: 12-22″ D: 12-22″
Power Tilt: W: 12-22″ D: 12-22″
Lift & Tilt: W: 12-22″ D: 12-22″
Seat-to-Floor Heights16
TRU-Balance® 3
Synergy®/Static8: 15.25-17.25″
Power Tilt8: 17.5-19.5″
Lift & Tilt8: 17.75-19.75″
Manual Recline10
Yes
Battery Size6
Group 24 or Group 34
Battery Weight14
Group 24: 51.5 lbs.
Group 34: 38.5 lbs.
Available Electronics12
120A Q-Logic 3 EX
Battery Charger
8A Off-board
Motor Packages
Two-pole, front-wheel drive
Weight Capacity7
300 lbs.
Base Weight
140 lbs.
Medicare Code Coverage
Group 3:
Standard (K0848/K0849)
Single Power (K0856)
Multiple Power (K0861)
Notes:
4 Speed varies with user weight, terrain type, battery charge, battery condition and tire pressure.
5 Without front riggings
6 Battery capacity may change when adding power positioning systems.
7 Weight capacity is dictated by the selection of seating.
8 All measurements +/- 1/8″ with 18″ x 18″ seat, fixed towers, 300 lbs. weight capacity and solid tires (add 3/8″ with pneumatic tires). Depths may increase seat-to-floor height. Contact Customer Service for details. Limited measurements are in the lowest position; does not include elevating system unless specified.
12 All Quantum Rehab® units can be ordered with specialty controls
14 Battery weight may vary +/- 3 lbs. based on manufacturer.
16 Seat-to-floor heights are measured with the unit unloaded. Due to the 4Front's suspension system, seat-to-floor heights are approximately 0.25" lower when the unit is loaded.