Q700M
Combining function and luxury, the Q700M Power Wheelchair offers a unique driving experience with SpiderTrac® 2.0 Suspension, reliable 4-pole motors, Biometric repositioning, and PG Drives electronics. You will feel secure when you are traveling over challenging terrain with the SpiderTrac 2.0 suspension and its independent movement of all six wheels. All of the Q700M bases come with Occupied Transit tie-down brackets as a standard feature.
The Q700M power chair comes with the optional SureTrac® System. This system will automatically detect and correct the smallest deviation from your input direction. This will reduce the number of physical or cognitive actions required to keep your power chair on-track, which will help make for a less-demanding drive.
You can also personalize your power wheelchair from a selection of six colors.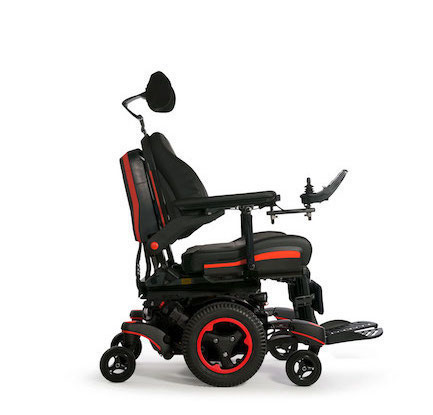 Sunrise Medical Q700M Features
High-performance base with SpiderTrac® 2.0 suspension.
Two seating options available.
Innovative controls that can connect with your smartphone, computer or other electronic devices.
Comes with 4-pole motors that power speeds of 5, 6, and 8 mph.
Ability to safely crawl up and down steep obstacles.
Offers intuitive driving and excellent maneuverability in tight compact spaces.
Memory seating can save up to 6 positions.
Comes with the R-Net Advanced Joystick.
Connect additional switches with the Link-It Mounting System.
300 lbs* (350 lbs for HD)

16″ to 22″

Note: Back cushion can cause 2″ loss of effective depth.

Turning radius (includes footplate)

Seat memory functions (ERGO only)

Seated, Pressure Relief, Supine, Feet Above Heart, Transfer, C-Me

6 mph (standard), 5 mph (optional), 8 mph (optional)

Startingat:325lbs(w/obatteries), 410lbs(w/batteries)

14″ drive wheels; 6″ casters

Up to 18 miles (w/Group 24 batteries and 6 mph motors)

Transit Securement Brackets

ISO 7176-19:2008 Transit Approved
*C-Me at 3 mph has a max. user weight of 250 lbs.