We live in a world that is structured to meet the needs of able-bodied individuals. However, that doesn't mean that people with disabilities can't travel the world and make their dreams into a reality.
It only means that these folks will need to use accessible tourism strategies for making the most of their vacation.
There are many disabilities that one can have, but no disability should hold the individual back. So, if your friend, child, or spouse has a disability, then take their travel wishes seriously.
Many people with disabilities grow up believing that they can't do certain things. The people that tell them this have the best intentions, but it may cause these individuals to live a less fulfilling life. That's why we made this guide.
Traveling with someone who has a disability initially seems like a challenge. While there might be some issues that come up on the trip, you can overcome them by planning ahead and remaining flexible.
So, where would you like to go on your next vacation?
Planning Around a Particular Disability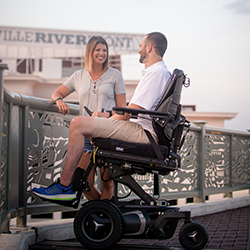 Disabilities manifest in a variety of ways. Some may be born with a disability, whereas others develop them after birth.
There are many different types of disabilities that people have to learn to cope with. Physical, sensory, learning, and other disabilities all change the way an individual interacts with the world. This difference doesn't mean they are set-in-stone limitations.
First, it's important to have an honest conversation with your travel companion about their disability. Encourage them to be honest about their condition and what they may need from you. Ask how you can help them enjoy their vacation and assist them in taking the necessary precautions.
Once you understand your travel companion's needs, there are other tips you can employ to ensure everyone has a great time.
Book Well in Advance
First, it's important to book any tours, hotels, and sight-seeing adventures well in advance. Doing so ensures that each place is wheelchair accessible. This is especially important if you are traveling out of the country.
Some countries and locations are not able to make every building or tour accessible, so it's important that you understand these limitations before getting your hopes up. If the tour guide or hotel manager tells you that they don't have wheelchair accessibility, ask them for another recommendation.
Find an Accessible Hotel
Try to book a hotel that is near plenty of shopping centers and restaurants. This will make it easy for your travel companion to move about without worrying about storing their complex wheelchair. It will also cut down on cab fare, which is always a good thing!
Having a hotel near restaurants will also take the guesswork out of mealtime. This is especially important if your travel companion has blood sugar issues or other medical concerns. All you'll need to do is simply exit your hotel and sit down for a nice meal.
Plan Your Route
Technology makes planning ahead for your trip easier. Technology such as Google Maps allows you to see the street conditions, hills, and other landmarks, firsthand by using StreetView. This will help you to determine the best ways of getting around while on your vacation.
Consider Travel Insurance
Before booking your trip, consider getting travel insurance. You can get travel insurance coverage for various aspects of your trip, such as airplane tickets or medical emergencies. Some travel insurance policies may also cover a disabled individual's complex rehab wheelchair or other supplies while on the trip.
So, in case their power wheelchair gets damaged, an insurance policy is available to cover the costs. Get multiple quotes from different travel insurance companies and explain your specific needs and concerns to get the best coverage for you.
Time of Year
Make sure to research the time of year and season you intend on traveling. Certain times of the year attract more tourists, which means more traffic and people to navigate around. This might be less appealing to both you and your travel companion.
The weather could also play a large role in the success of your vacation. While you can easily adapt to random weather challenges, some seasons have less desirable weather than others.
Have a Plan B and a Positive Mindset
Always have a plan B in mind when traveling. For example, if your travel companion's wheelchair broke, how would you respond? If your tour gets canceled, what other activity would be accessible to all?
Planning is always key when traveling with a person who has a disability. Have as many Plan B's in mind as you can think of to ensure that everyone has an excellent time.
Always try to remain positive, even when a challenge occurs. Any challenge can be overcome, and there is always help nearby such as from a doctor or police officer.
Accessible Tourism: Where Will You Go?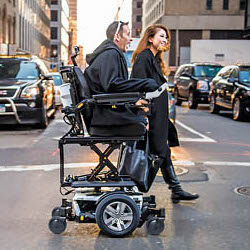 Knowing accessible tourism tips is a great way to plan ahead for any challenges. These tips can also reduce any fears they may have and allow your travel companion to feel more at ease.
It's worth remembering that many people with disabilities likely live where you are traveling. These individuals had to learn to adapt to their surroundings successfully to thrive in the area. If possible, try to join a community or support group for people with disabilities in the area.
The people in the group might be able to assist you further with planning. They may also know of great travel spots and how accessible they are. Remember, the locals always know where the best spots are!
Lastly, remember to remain patient with your travel companion. Assure them that you are willing to assist them as needed.
Want to get a new wheelchair before traveling? Contact us today to learn more about our product selection and find one right for you. We serve all of South and North Carolina.