When you're facing a physical challenge or disability, your wheelchair can be a great mobility tool. It gives you freedom of movement that you previously did not have.
Knowing how to pick the right mobility assistance devices can be valuable, as it can aid in improving your quality of life.
With the right rehab technology, complex rehab wheelchairs are a great option. They offer supreme comfort and ease, but many people wonder how a rehab wheelchair actually work?
In this guide, we give you an answer to this question.
What is a Rehab Wheelchair?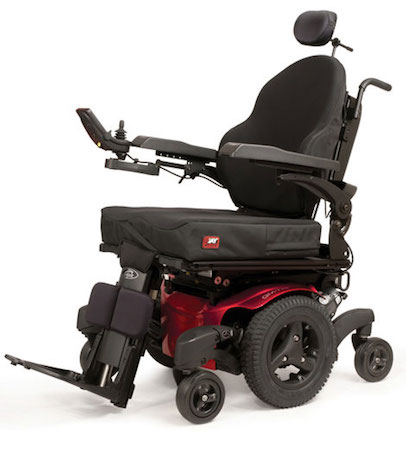 A rehab or power wheelchair is a mobility assistance device that uses electric controls for navigation. These wheelchairs are useful, because they eliminate the need of manual manipulation.
If you have a disability that makes it very difficult, or even impossible, to push a manual chair, a power wheelchair is an excellent choice.
A joystick controls all the wheelchair's movements. It relies on electric motors and batteries for movement.
These power-assisted wheelchairs are great for many reasons, especially for older people with joint issues.
That being said, complex rehab wheelchairs are on a completely different level.
As nice as they are, power wheelchairs are not one-size-fits-all. Depending on the needs of the operator, additional features might have to be added in order for it to be feasible.
Furthermore, many of the more common power wheelchairs have a bulky frame. They are basic, which is not necessarily a bad thing. If the person only needs mobility and nothing else, they are decent options for their price.
However, if your needs go beyond just the basic features of a standard power wheelchair, you can turn to complex rehab technology for assistance.
Features of a Complex Rehab Chair
A rehab wheelchair will have different levels of configurations designed to provide comfort and independence. With the right system, you can increase general function and stability, which can relieve burden to both users and caregivers alike.
Not all complex rehab chairs are the same. The specs are custom-fit to cater to the different needs of the person using it. They are adaptable enough to come in a variety of shapes and sizes.
For example, some users need wider, deeper, or taller seats. They might also need more angles of positioning. People with spinal issues would need specialty seats and cushions for back support. Specialty joystick and navigation controls are also crucial for people with ALS and cerebral palsy.
Knowing the right features can give superb benefits. The value of complex rehab wheelchairs is undeniable for people who need certain support functions. It can give them a better life and a level of independence that they previously could not have.
How Does it Work?
Complex rehab wheelchairs will have:
A base chassis
Navigation and control systems
Seating and positioning systems
Recline and tilt technology
These extra technologies are vital to many people with advanced motor and musculoskeletal issues. They can help give their users a semblance of normalcy with better ways to move around.
Let's learn a little more about how each part works and what they do for their users.
Wheelchair Base Chassis
The base of mobility assistance devices with complex rehab features is the powerhouse of the unit. They hold the vital pieces such as the batteries, casters, navigation and motors. This is where most of the work happens.
For every user, a different base chassis will offer different advantages altogether. The classifications depend on where the drive wheel is. The three classifications are:
Each has their own advantages and disadvantages, so it's important to do research before deciding on which one to go with. Keep in mind that finding the right chassis when choosing a complex rehab wheelchair can make a big difference in functionality.
Navigation and Drive Control Systems
Navigation control systems, called drive controls or access devices, are valuable to movement around the general environment. They can also be custom fitted to suit the needs of the person that is using them.
The two primary control systems for navigation are joysticks and switches. Joysticks are designed for people that can move their hands or digits. It gives you much more precise controls for your chair.
Switches like sip and puff can accept voice commands depending on the action. They are ideal for people with paralysis or neurodegenerative disorders. These controls are usable hands-free, sacrificing fine control for accessibility.
Seating and Positioning Systems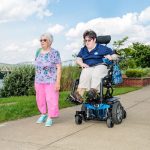 Seating and positioning systems can be adjusted on different parts of the rehab chair to achieve better movement. Cushions and backrests can recline or incline to help with comfort and can be contoured to accommodate the specific physical needs of the user.
While this function seems simplistic, superior seating can give improve quality of life in an immeasurable way, because of the level of comfort they provide. Most wheelchair users will tell you that comfort is one of the top priorities when it comes to selecting a chair.
Recline and Tilt Technology
Recline and tilt technology addresses the different utilitarian needs of the user. These features are used to relieve physical pressures, and even adjust patient posture. Many personal care needs are addressable with these mobile assistance features.
Recline and tilt options will involve the angle of the seat and backrest. It relieves awkward muscle positioning and corrects joint angles, both of which are crucial in maintaining the health of the user. People who can't shift their weight, or transfer by themselves, will thoroughly enjoy this technology.
Use Rehab Technology Today
Complex rehab technology is useful to many people. It can give wheelchair users a renewed sense of independence. Complex rehab wheelchairs are a valuable improvement to the quality of life of their operators.
Having the mobility that you need in wheelchair can give you a lasting feeling of freedom. That is why it's crucial you find the right wheelchair to give you the best benefits for your condition.
Talk to us today and let us give you the mobility you always wanted.